Through the last couple years, fruit from Vesterled Frugtplantage on Fejø has gained great popularity. The orchard is known for their cultivation of high-quality fruit. Or as the man behind it, Laust Spandet Jensen says; "Denmark's Best Fruit". In the coming week, the fruit will be enjoyed by Compass Group guests. And in connection with this Ulrik Nielsen, Operation Excellence Manager at Eurest, recently visited Fejø.
Read the rest of the article in Danish below.
Mellem frugttræerne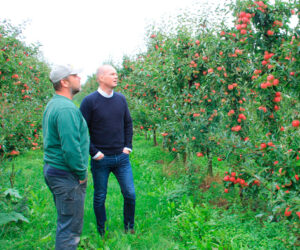 Mellem frugttræerne på Fejø faldt snakken på kvalitet, traditioner og det særlige ø-klima, da ejer af Vesterled Frugtplantage Laust Spandet Jensen, viste Ulrik Nielsen rundt. Her fortalte Laust blandt andet om de tanker, som lige bag hans virke: "For mig handler det om at levere frugt, som folk kan genkende på kvaliteten." Han fortalte videre: "Jeg plejer altid at sige, at en frugtavler aldrig bliver færdigudlært. Det er fordi, der er altid noget nyt at lære. Man kan altid blive bedre, og der er et stort arbejde i at opbygge og vedligeholde et kvalitetsprodukt."
Som søn af en frugtavler plantede Laust sit første frugttræ som 10-årig. Og i 1998 startede han sit eget, efter at have taget en uddannelse i udlandet. Siden da er Vesterled Frugtplantage kun vokset og vokset. Alene i det kommende år skal der plantes 20.000 nye træer.
Begejstringen for Lausts frugt var også til at mærke hos Ulrik. "Et sådan besøg som i dag er en fornøjelse, fordi Laust tydeligvis brænder for det han laver, og resultatet er lige her – i æblets smag." Besøget hos en leverandør som Vesterled Frugtplantage er heller ikke det første af sin slags. Som Ulrik også fortalte: "I Compass Group tager vi ud og møder vores leverandører, fordi vi vil lære dem at kende. Hvert af de besøg vi har været på, har altid givet os muligheden for at lære noget nyt og komme det tættere på råvaren – og producenten bag. For os er der sammenhæng mellem et godt produkt og et godt partnerskab."
Frugt fra Fejø er noget helt specielt
Fejø danner de perfekte rammer for at dyrke æbler, men også anden frugt som pærer og blommer. Det er det helt særlige klima, som findes omkring de danske småøer, der gør sig gældende. Det milde forår uden sen nattefrost og en kombination af flere solskinstimer end landsgennemsnittet og lyset, som reflekteres fra det omkringliggende hav, giver frugten masser af smag.
Hvert år producerer plantagen mere end 2,5 millioner kilo frugt. Æbler, pærer og blommer bliver håndplukket, når de er træmodne. Laust fortæller: "Vi plukker frugten, når den er præcis som den skal være – moden og fuld af smag."
Ulrik fulgte også op på dette: "Vi er også glade for at servere mad i vores personalerestauranter lavet med ingredienser, som er i sæson." Stolte traditioner og det særlige ø-klima giver æblerne, pærerne og blommerne fra Fejø den helt rigtige kombination af saft og kraft, sødme og syrlighed.
Som Ulrik også lærte om på sit besøg, er frugtavl også en tålmodighedens kunst. Det tager cirka 10 år fra et frugttræ plantes til at man kan sælge frugten. Seneste 'skud på stammen' er en ny sort af pære, Katrine, opkaldt efter Lausts datter. Træerne blev plantet samme år som Katrine blev født, og nu 10 år senere, er pærerne klar.
Frugt fra Fejø vil blive serveret i den kommende uge til gæsterne i mange af Compass Groups personalerestauranter.